Challenge
Woolworths, an established Australian retail brand, has expanded its reach to the Philippines by offering a line of grocery products in major supermarkets such as Shopwise, The Marketplace, and Robinson's Supermarket. This move to penetrate the Philippine market has caught the attention of M2.0 Communications, as they were referred to Woolworths by one of their existing clients, Shopwise.
M2.0 Communications has been tasked with the responsibility of increasing the brand awareness of Woolworths in the Philippines, especially with the upcoming Christmas season. Given the festive mood during this time of the year, the M2.0 team has taken the opportunity to create a campaign that aims to captivate the interest of Filipinos and encourage them to purchase Woolsworth's products both in-store and online.
---
Approach
The PR team has come up with a strategic plan that involves an influencer campaign called "Aus-some Christmas with Woolworths!".
The main objective of the campaign is to attach trusted names to the Woolworths brand, which will help establish its credibility among consumers. The team has identified 11 influencers from different economic demographics, with a focus on aligning each one with the appropriate supermarket chain (i.e. Shopwise for the masses, The Marketplace for the upper class). The team has provided content ideas, including captions for the influencers' posts, and an influencer seeding plan that involves sending free Woolworths products to the influencers so they can try them out.
The M2.0 Communications team was able to secure top-tier influencers such as Chef Tatung, Erwan Heusaff's FEATR, and Haidee Quing to participate in the campaign. They were asked to create content that featured Woolworths products, such as recipes using the brand's ingredients, "What I Eat in a Day" vlogs, and Noche Buena meal plans under PHP 1,000 pesos.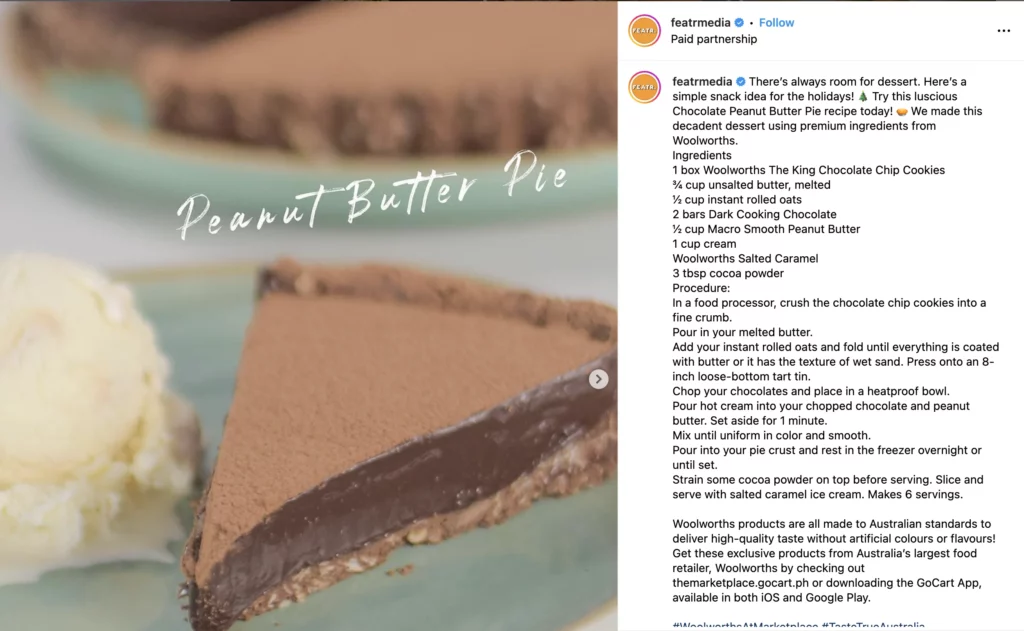 ---
Results
Aus-some Christmas with Woolworths! garnered over 615,910 reach, 272,856 interactions, and 843,137 impressions. Through the campaign, Woolworths was able to gain significant exposure and make a strong impression on potential customers. The influencers not only helped to establish the brand's credibility but also provided valuable content that showcased Woolworths' products in a positive light.