An April 2023 study found that AI tools boost workplace productivity by 14%. How can these tools assist video producers and content creators?
According to a 2023 Wyzowl Research, 87% of marketers believe that video content has a positive impact on sales. About 96% trust that video content helps the audience understand a service or product more in comparison with other media. Moreover, 83% agree that video content provides their businesses with a good return on investment (ROI). With these numbers, businesses and organizations must prioritize the production of quality video content.
However, as the demand for this medium rapidly increases, how can companies adapt efficiently and sustainably?
Utilizing productivity tools is one of the many ways to adapt. In recent trends, Artificial Intelligence (AI) is being utilized in various industries such as creative, business process outsourcing (BPO), retail, and e-commerce. AI tools were first used to automate mundane tasks and shorten production chains. New applications are now able to assist content creators and marketers in producing video content efficiently.
In this article, we will discuss how video content is rapidly populating social media platforms, the different ways videos transformed the consumption of online content, and the various AI tools to keep up with the demand.
Blog Overview
The Year of AI
The first quarter of 2023 served as a springboard for AI tools and software to occupy spaces in the mainstream. AI tools similar to ChatGPT, Midjourney, and Dall-E 2 caused a stir in the creative industry. Artists reiterated that the capacities of these tools are dangerous to the working class. Discourse about art theft, originality, and plagiarism populated online spaces. Nevertheless, AI tools still hold value. Its ability to reduce human error, provide unbiased decisions, identify patterns, and perform repetitive tasks makes it an asset to fast-growing companies and organizations.
When AI was introduced to the creative industry, it was marked as a threat to the workforce. However, we cannot deny its contributions to the field. With its pattern recognition capabilities, it can automate video and audio editing. It can also use its facial recognition feature for color correction and grading. Lastly, and the one feared most, is its ability to transform language-based instructions to various visual media. To visualize AI's capacity to produce quality video content, Wistia made a video using only AI. They wrote the script with ChatGPT, the avatar with Synthesio, and the visuals with Descript.
The future is bright for these AI tools. Their ability to expedite traditionally lengthy processes is a feature we subconsciously seek. Soon, AI's processing timelines will become the industry standard.
Video Content Is Gold
Last year, Search Engine Journal ranked the top 10 most used social media platforms based on their monthly average users (MAU). The top five platforms are Facebook, YouTube, WhatsApp, Instagram, and Tiktok. Facebook has 2.9 billion MAUs, YouTube has 2.2 billion MAUs, WhatsApp and Instagram both have 2 billion MAUs, and TikTok has 1 billion MAUs. Four out of these five platforms are utilized to consume visual content. On Facebook, an average of 200 million videos are shared per day. On the other hand, over 95 million photos and videos are posted on Instagram every day. Moreover, there are over 3.7 million new videos uploaded to YouTube per day. Lastly, 23.56 million videos are posted on TikTok per day.
With the number of videos competing for views, how can you stand out?
Consistency. Publishing quality video content with consistency allows your brand to reach your target audience. However, breaking through the noise of millions and millions of already published videos is difficult. To find your space on these online platforms, you need to amass and diversify your video content. Utilizing video editing tools can help transform the efficiency of your video production. This will boost your capacity to publish more video content and possibly garner more views.
Efficient and Effective Editing
Although invisible, we cannot neglect the magic of editing.
The 2004 film "The Cutting Edge: The Magic of Movie Editing" discussed the value editing adds to a film. The documentary film featured industry icons such as Jodie Foster, Martin Scorsese, Walter Murch, and Sally Menke. The filmmakers describe what occurs inside the editing room—manipulation, deconstruction, and deception. Editors shape the story we view on our screens. They decide what to keep, cut, and highlight. Their contributions to the film may be unnoticed, but their impact is evident.
With the value editors bring to a project, it is important that they are equipped with the right tools for efficient video editing. Video editors must improve not only their skills but also the tools they use as demand for video content skyrockets. With the rise of various AI tools, there is now AI-powered software that can help with video editing.
Examples of AI Tools for Video Editing
Here are the AI tools to boost your video editing efficiency.
1. Synthesia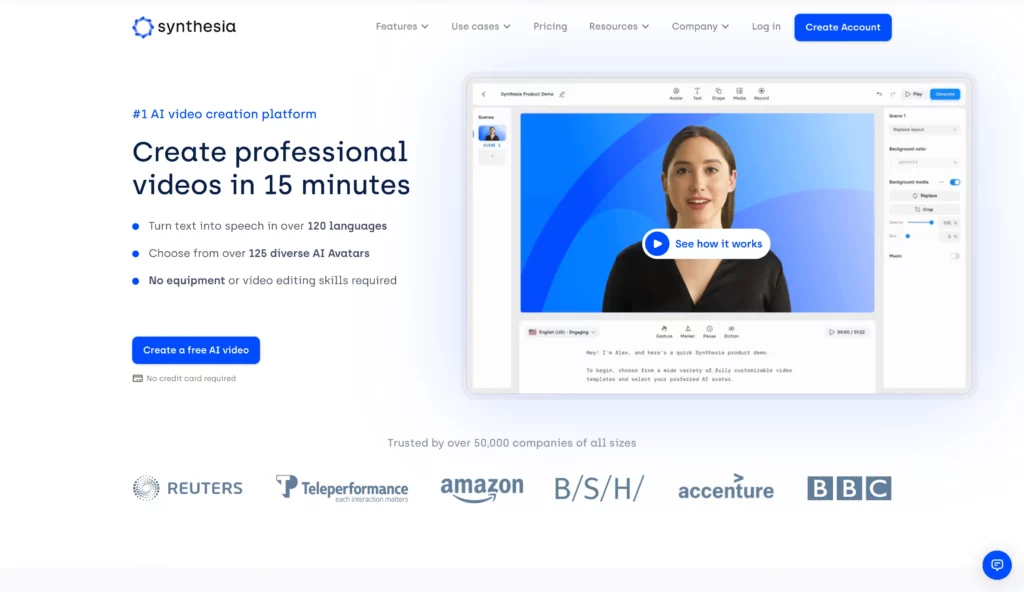 Synthesia allows editors to create videos from text. It allows editors to create avatars from its arsenal of AI presenters that act as the talking head. With this feature, the tool is ideal for creating explainer videos or video tutorials. It provides access to a library of actors and voice-over artists, allowing editors to create videos in multiple languages and styles. Synthesia uses deep learning technology to analyze text and create a video that matches the tone and style. It can also add animation, graphics, and other effects, making it a versatile tool for video editors.
Selling points:
$30 per month
Web-based app accessible on your browser
Intuitive interface, suitable for beginners
Update your videos with a single click
Quickly create videos in over 120 languages
2. Rawshorts
The Rawshorts platform provides access to a library of templates and animation types. The tool allows editors to create videos with a high production value without spending a lot of time on the process. The tool uses AI to analyze text and suggest edits and improvements, making it ideal for beginners. Rawshorts also provides access to a stock library of images and video clips, making it easy to add additional footage to a project.
Selling points:
7-day free trial
$30 per month
Scans and analyzes scripts
Spreadsheet to video
Assembles video outline
3. Wisecut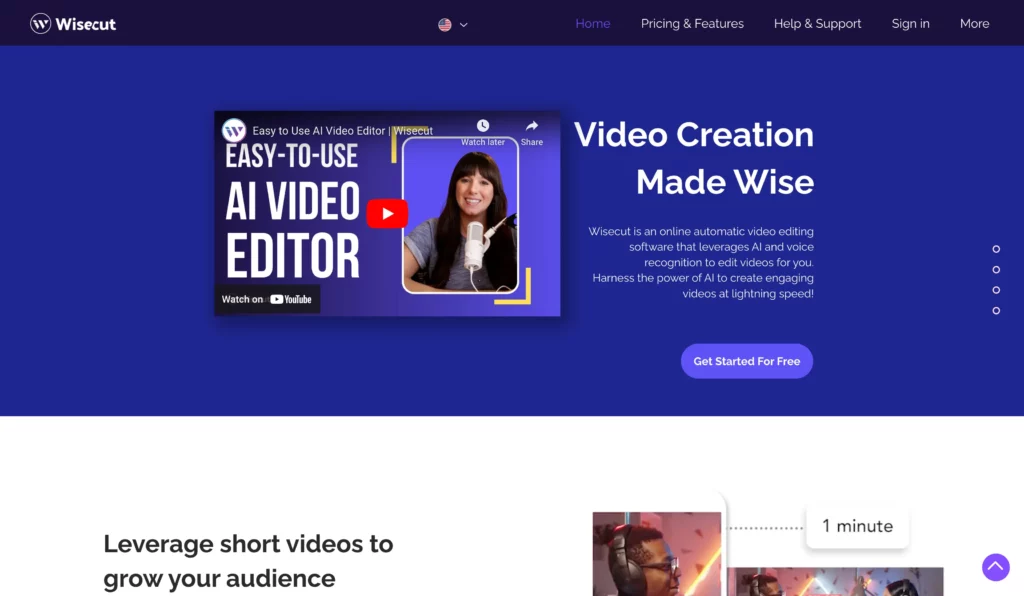 Wisecut can automatically select the best shots and arrange them in the correct order. It can also add transitions, music, and other effects to edit a polished final product. The tool is ideal for editors who are working with large amounts of footage and need to edit quickly. Wisecut also provides access to a bank of premade templates and styles, making it efficient to create a professional-quality video.
Selling points:
Free
More features at $10 per month for personal accounts and $29 per month for professional accounts
Auto cuts silence
Auto subtitles and translations
Auto audio ducking
Uses smart background music tailored to your video
Storyboard-based video editing
Shorten long-form videos
4. Lumen5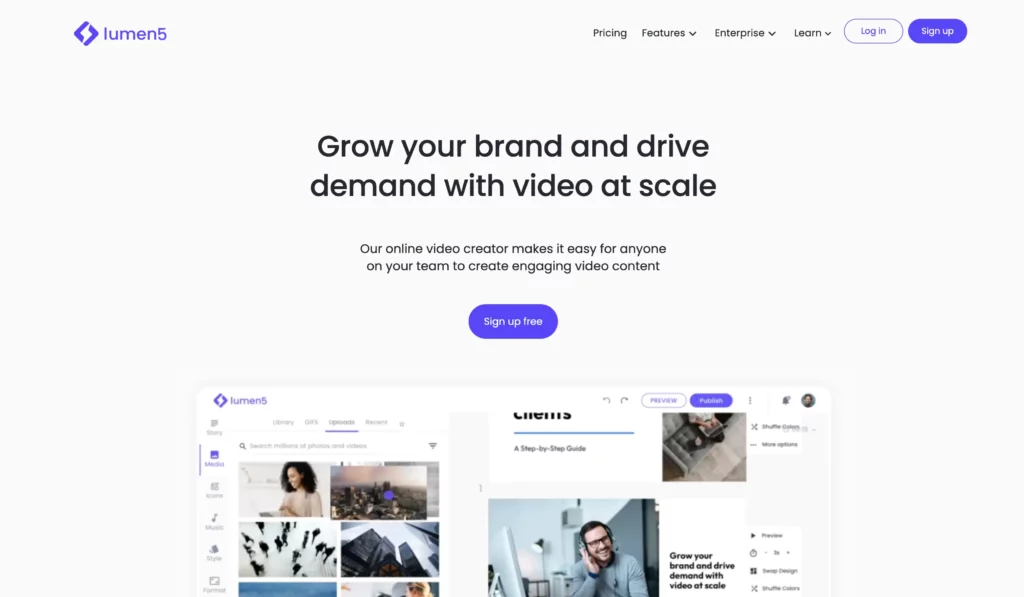 Lumen5 provides access to a library of templates and animation types. Its accessible library of images and video clips allows its users to efficiently add the needed assets to their projects. The platform also allows editors to publish videos directly to social media platforms. This feature makes it an ideal tool for creating content for Instagram, Facebook, and other social media channels.
Selling points:
$19 per month
More features at $15 per month for personal accounts and $30 per month for professional accounts
Templates for different aspect ratios
Transform blogs into videos
Edit through your transcript
Adds callouts and cutaways
5. InVideo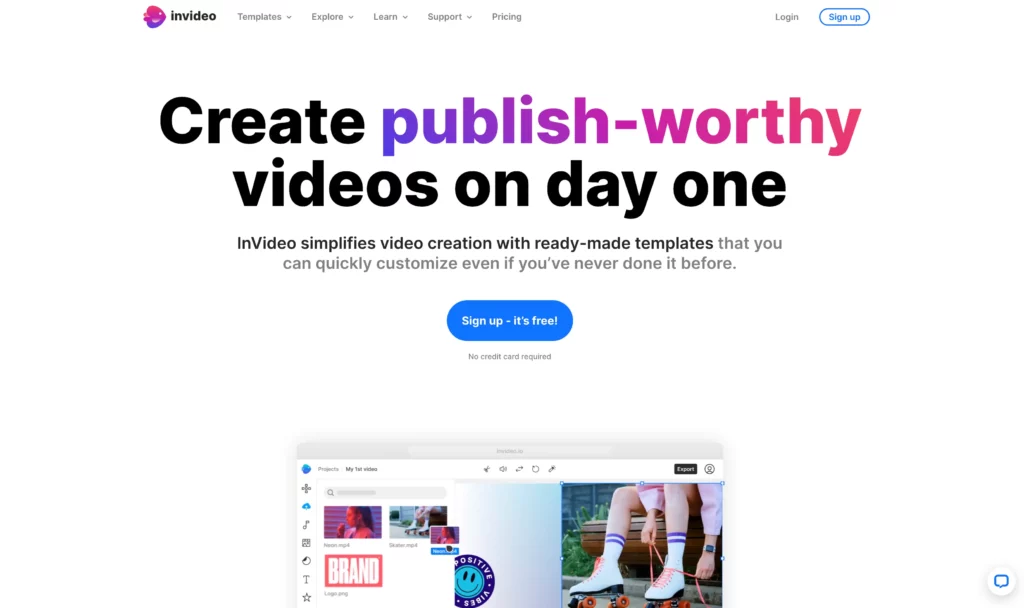 InVideo is a cloud-based video creation platform that allows users to create high-quality videos efficiently. The platform offers a user-friendly interface, a wide range of customizable templates, and an extensive library of media assets. This tool offers features such as automated voice-overs, text-to-speech, and advanced editing tools to enhance the video creation process. InVideo is an efficient and versatile tool for video editors with basic technical skills.
Selling points:
Free
More features at $15 per month for small businesses, influencers, and educators, and $30 per month for large teams and agencies
Templates for various media formats
Converts text to speech
Can collaborate with multiple editors simultaneously
Access to more than 8 million assets
Accessible via desktop and mobile devices
Ultimately, AI is just a tool to help you in your day-to-day life. It is not a substitute for your human capabilities. Understanding the value and use of these tools will allow you to focus on tasks that require more of your attention. AI is here to lift the burden of your mundane routines, not to replace your artistic efforts.  

M2 Communications is a public relations firm and digital marketing agency that helps brands tell meaningful stories. Alongside our PR and social media marketing services, M2 also offers content development and video production services for brands to engage their audiences. Check out our case studies page to learn more about the brands we worked with.