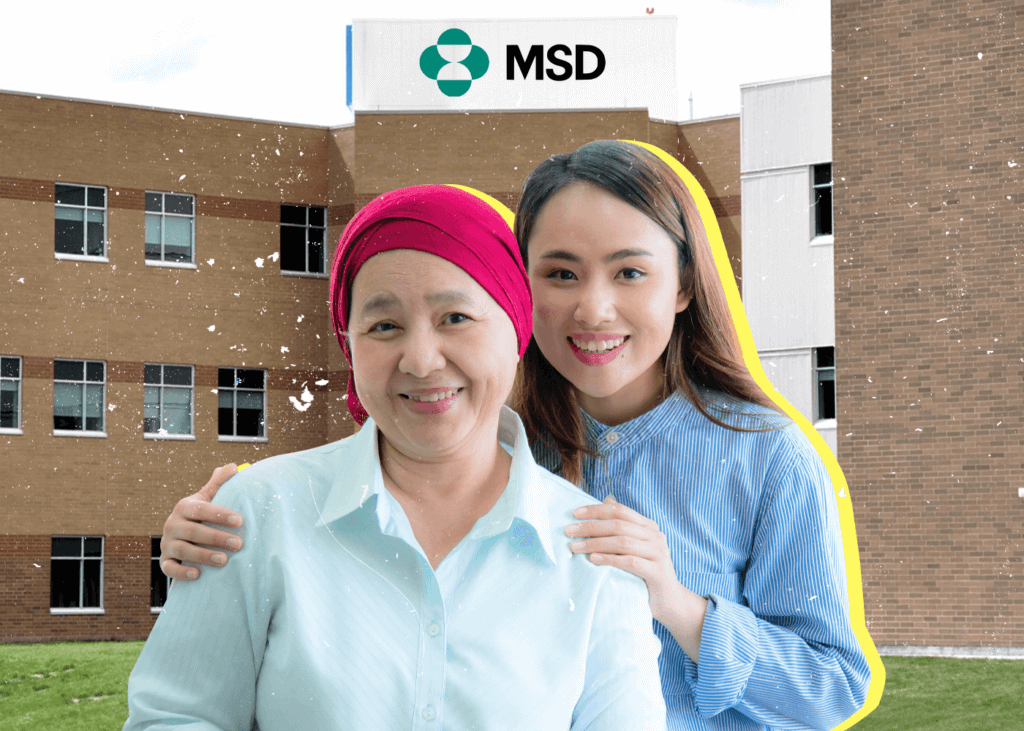 An Awareness Campaign for Immunotherapy with MSD Keytruda
Building Awareness on Immunotherapy
The Devastating Burden of Cancer
Every year, 98 thousand Filipinos find out they have cancer.
The World Health Program (WHO) estimates that close to 9,000 Filipinos die each year from lung cancer. Those suffering from it have a low five-year survival rate: 15.7 percent overall, and 3.7 percent for patients in the later stages of the disease.
As if things weren't bad enough already, the most commonly used cancer treatment at present, chemotherapy, can be a very difficult experience. A method that uses radiation, killing cancer cells but causing the death of healthy cells at the same time.
Fortunately, a new treatment offered renewed hope for cancer patients: immunotherapy.
It was seen as revolutionary by oncologists, having already saved the lives of many cancer patients in other countries. It was finally available in the Philippines care of Merck, Sharpe & Dohme (MSD). Our task was then to educate the local medical community as well as Filipino cancer patients about immunotherapy as a viable and effective means of treating lung cancer.
Oncologists agree that maintaining an attitude of hope is necessary if cancer is to be overcome. However, that's not exactly abundant among advanced lung cancer patients for whom chemotherapy proved ineffective or too painful.
Our campaign aimed at restoring hope. By talking to both medical professionals and patients about the chance at survival that immunotherapy offered, we could help Filipinos living with cancer gain back the positivity required for effective treatment.
The awareness campaign sought to engage the following stakeholders:
Cancer patients and their relatives
Divided into three phases, the six-month project combined news and feature release development, seeding, and media events. We wanted to lead the discussion phase to phase, from zero knowledge about immunotherapy, to awareness about its benefits and the need to demand its use from the government and doctors. We would then cap the campaign by telling the story of cancer patients who had actually begun using immunotherapy to treat their cancer.
In the first phase, the campaign reached out to the oncological community to find thought leaders who could raise awareness on immunotherapy. The goal was to start local discussion with compelling storylines.
The second phase sought to assemble a panel of established experts in cancer treatment and create a platform where they could share their knowledge and experience. We wanted to encourage discussions among the general public and various stakeholders who could secure greater support for immunotherapy.
The last phase was dedicated to shining the spotlight on survivor stories featuring patients and their doctors, sharing personal victories in the fight against cancer.
To support each phase, three events were held: two small roundtable discussions that then built up to a large symposium that officially launched immunotherapy treatment in the Philippines.
MSD Usapang Kanser Lung – A media roundtable discussion to mark lung cancer awareness month, honing-in on development in lung cancer diagnosis, symptoms, and treatment including immunotherapy.
MSD Pre-launch Mini-RTD – A casual discussion with select blogs and broadsheets about lung cancer and melanoma awareness, cancer diagnosis, symptoms, and new treatment options such as immunotherapy.
The Future of Cancer Treatment: Harnessing Hope from Within Media Symposium – The symposium launched the immunotherapy drug Pembrolizumab, which received FDA approval as second-line treatment of unresectable or metastatic melanoma and non-small cell lung cancer.
Over the course of the awareness campaign, dozens of stories on immunotherapy were published in the Philippine press and online. The campaign produced nationwide and regional coverage, with stories on KEYTRUDA published in top-tier newspapers and blogs, as well as radio and television.
These stories grew the Filipino public's understanding of immunotherapy, while emphasizing MSD's leading role in developing and establishing better patient access to this revolutionary new treatment. The awareness campaign was sustained for half a year and is still ongoing, driving greater awareness in the local medical community, among government health officials, and, most importantly, Filipino cancer patients and their relatives.
As the awareness campaign unfolded, more and more oncologists referred their patients for immunotherapy evaluation and treatment—a number that is still growing with each passing month.
This very human outcome, more than ad value, impressions, or clippings, is what makes the campaign for immunotherapy so important and worthwhile.