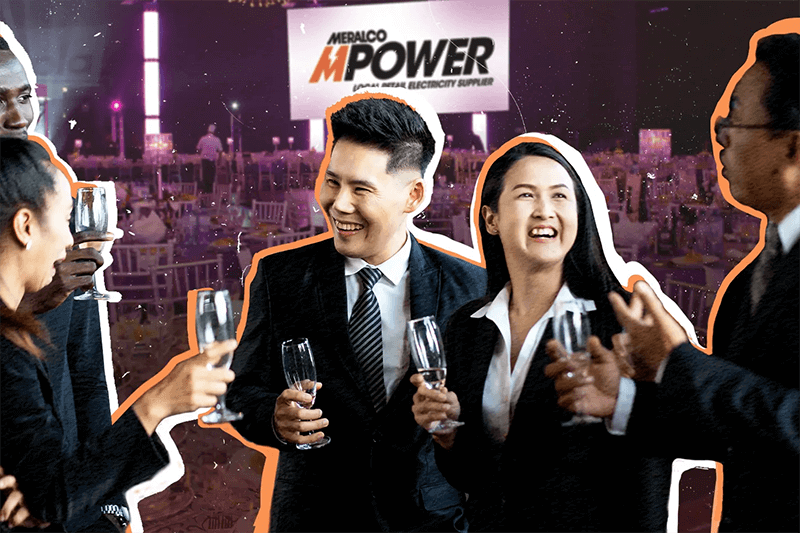 Event Management for Meralco MPower's Annual Celebration
MPower is a subsidiary of Meralco that highly values its customers as it constantly looks for platforms to engage and show appreciation for the trust and support they have given all these years.
Year in and year out, MPower holds partner night celebrations that customers always look forward to, so the question every year is how do you top last year?
What activities do we provide that will make it engaging to the different age groups of our customers?

How do we acquire new customers and encourage them to join in our activities that are outside of just the usual business contracts that we engage in?
MPower challenged M2.0, its event management partner in 2016 and 2018 to have a good campaign strategic planning to come up with a theme, copy, and design that cuts across all materials and all throughout the customer experience i.e invitations to the event proper, entertainment, activities, and giveaways. The goal was to communicate MPower's appreciation to all the customers for their continued support over the years.
In order to generate more interest for the event, a solid visual identity was needed. MPower also wanted to showcase the different activities it did with their customers such as golf and badminton tournaments, workshops, and CSR activities. Potential new customers needed to see that partnering with MPower provides better business operations and growth.
It was time to party, but not without reminding the attendees of the underlying goal. MPower reassured its customers the quality of the experience they were getting with their vendor partners. Supporting their business continuity and growth will always be the top priority.
The 2018 event was particularly special marking the 5th anniversary of appreciating the customers and for more partnerships to come.
MPower on the other hand made sure that the high spirits of the events extended long after it was finished. They were more concerned with the happiness and satisfaction of their customers and of course, making sure that whatever it is they did in the previous year, they'd be able to surpass it.
Everyone loves a good celebration. The events were able to have full attendance of MPower's customers who expressed their appreciation for the seamless execution of the visuals in the invitations and the various engagements such as the giveaways and surveys. Alongside the great feedback, the best takeaway from it all was when the customers asked what the next year would be like.